This is where things start to get really exciting! Fans of The First Kingdom have not seen any new publications since the last of the 24 books were published in the early 80s. For the first time, two sequels are being published, in hard cover, by Titan Publishing. These are "The Space Explorer's Club" and "Destiny." These are volumes five and six respectively. We just received some advance copies of volume five, "The Space Explorer's Club" and it is beautiful! It is scheduled for release on September 24, 2014. Jack Katz has really hit his stride on these last two volumes, taking up where he left off.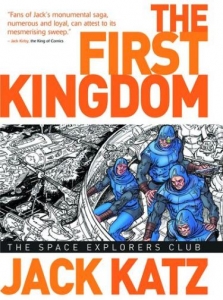 In his Wikipedia, "Katz admits that the first twenty issues are the introduction to the real Kingdom story, issues 21–24. The first twenty issues are filled with past histories that are interwoven and repeat the same doomed cycle: a hard-won ascent from primitivity blossoms into a golden age of scientific advancement which inevitably devolves into war and a preoccupation with survival and superstition. Katz's fears concerning the human condition are revealed here. His characters haven't been able to transcend their "early programming" born out of environmental stresses; they can't escape their base motivations such as greed, envy, jealousy, etc. The chance for humanity to break this cycle comes with the arrival of Queltar in Book 20, who encourages a select few to join him and embrace their true potential among the stars."
It's amazing to think that Jack was in his early 50s when he finished the first 24 books and now in his 80s, he's drawing and writing better than ever. In fact, he's still working on the series. With his permission, we may be able to reveal some sneak peeks here at some point.